Since September, I have written 61 different blog posts for EntreResource.com and they currently receive close to 10,000 views a month.
In this time I have…
Written each post myself and put time and effort to create work I'm proud of…
Designed the blog title images, opt-ins and banner ads…
But most importantly, I have loved doing it!
That may impress you, it may not. If you are impressed at all and want to start your own blog like I did with this one, read on, if not, scroll down to the comments section and leave me some tips! Seriously, I want your input!
My strategy
When it comes to content for a blog like this that represents my brand so much, I don't believe in outsourcing it.
I made this blog to share my voice and opinions with the world. I want to show what I know and let people critique it. Punch holes in it. Engage with me…
So, paying someone to write content for me was out of the question.
My Goal = Create my own great content + Gain opt-ins – Tech Issues
Step #1 Avoid WordPress Issues with WP Curve
I know a good deal about WordPress, but I am far from immune from random, time sucking issues.
To prevent this, I invested a measly $79/month to have access to WP Curve's support team.
If I had issues, I would email them and they handled it. There were some minor restrictions (one gig at a time, 12-24 response time, list of accepted requests).
Related Post: Tool Spotlight: WP Curve
Step #2 Speed up promotion with CoSchedule
Creating content is only a small part of the blog-building battle. Sharing it regularly is critically important if you want accelerated blog growth.
Coschedule allows you to schedule your social media posts and blog updates.
Easily share custom messages or old blog posts with your audience on Facebook, Twitter, Pinterest and Linkedin.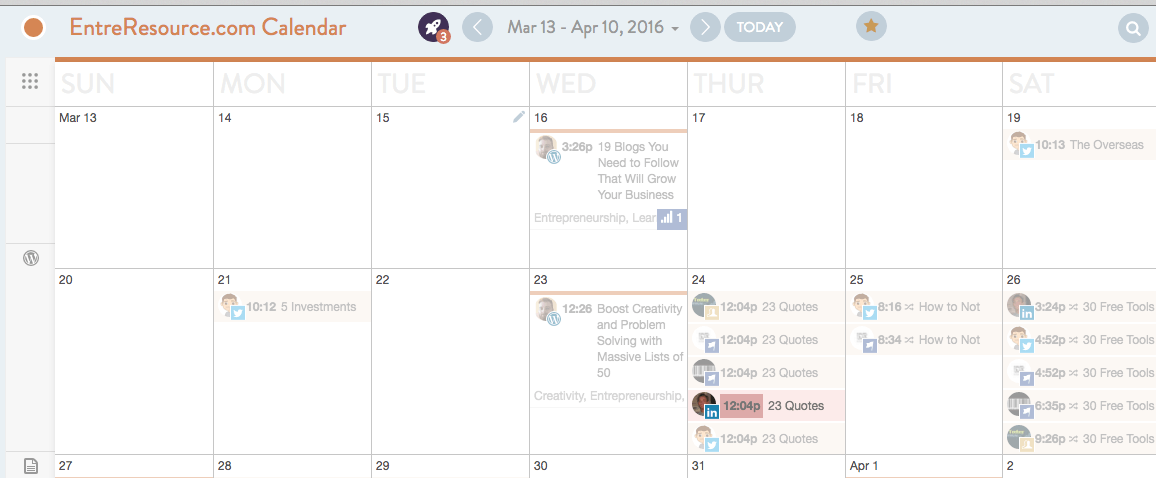 Related Post: Tools for Entrepreneurs: Coschedule
Step #3 Create quick design work with Canva
 A blog doesn't have to be full of professionally made design work, but I enjoy having a nice looking blog with cool blog images.
I enjoy doing this part, so I use
Canva
 to make sure I make things that are not too terrible to look at.
Step #4 Create email sequences with Convertkit
If you have a blog, you need a mailing list. The money is truly in the list.
Now, drafting emails can be time consuming so, one way to be sure that you share your best content with your new sign ups is by creating an autoresponder sequence.
Your sequence should focus on providing value by sharing your most important content.
Step #5 Improve site fonts and subtle improvements with proper design help from Upwork
Don't be too proud to get help from an expert. For less than $100, you can get a lot of design work done.
Step #6 Outsource proofreading and basic research to Fancy Hands
I am a grammar junky, but, it can be crippling as a blogger. So, I give my articles a quick review and then send them off to FancyHands for additional checks.
Don't let perfectionism keep you back!
What tools and services do you use?